1 & 2 Bedroom Apartments
| | |
| --- | --- |
| This two-bedroom layout features a chef-inspired kitchen and an open living /dining space, creating an undeniable sense of spaciousness. An open-air balcony further expands the area, and a second balcony is offered in select iterations. | |
A1
(Available)
Bed
1
Bath
1
SQ.FT.
707
Rent
$1,170 -

to

$1,705
Specials
Deposit
Varies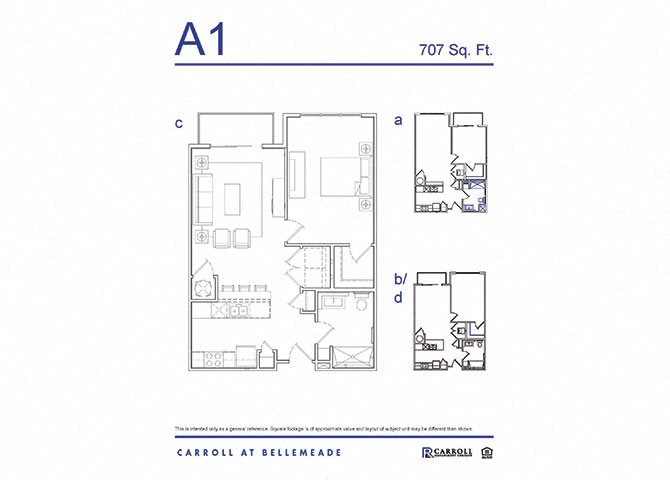 A2
(Contact for Availability)
Bed
1
Bath
1
SQ.FT.
715
Rent
$1,505 -

to

$1,820
Specials
Deposit
Varies

At this time, one or more floor plans at this community are currently unavailable. Please select "Apply for Waitlist" if you would like to apply for the waiting list. Please note, the application and application fee must both be submitted prior to being placed on the waiting list. When availability permits, you will be contacted for actual apartment selection and allotment.

---

❗️Please be advised that rates are subject to change and availability for move-in is not guaranteed.
Displayed pricing is based on 12-month lease terms. Actual rental rates may differ due to desired lease term, specific apartment features, planned move-in date, and availability. Delivery dates and availability are not guaranteed as they are contingent upon the progression of construction and receipt of city and state approvals.

---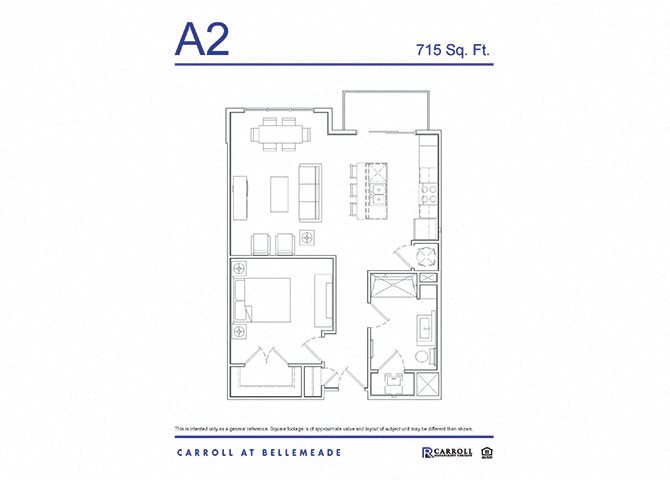 A3
(Contact for Availability)
Bed
1
Bath
1
SQ.FT.
718
Rent
$1,220 -

to

$1,520
Specials
Deposit
Varies

At this time, one or more floor plans at this community are currently unavailable. Please select "Apply for Waitlist" if you would like to apply for the waiting list. Please note, the application and application fee must both be submitted prior to being placed on the waiting list. When availability permits, you will be contacted for actual apartment selection and allotment.

---

❗️Please be advised that rates are subject to change and availability for move-in is not guaranteed.
Displayed pricing is based on 12-month lease terms. Actual rental rates may differ due to desired lease term, specific apartment features, planned move-in date, and availability. Delivery dates and availability are not guaranteed as they are contingent upon the progression of construction and receipt of city and state approvals.

---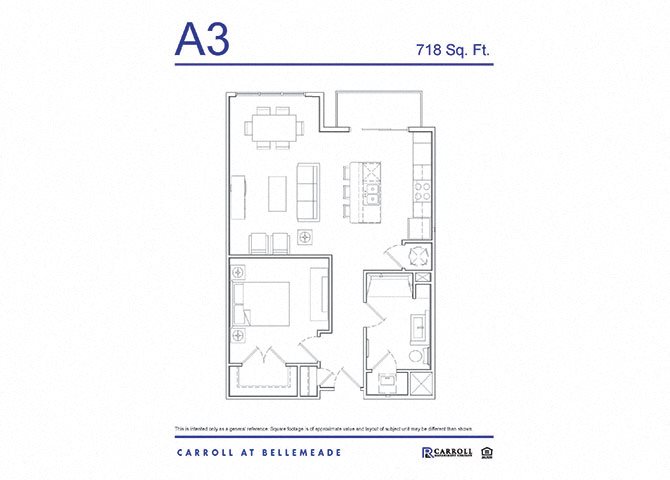 A4
(Available)
Bed
1
Bath
1
SQ.FT.
678
Rent
$1,150 -

to

$1,685
Specials
Deposit
Varies
A6
(Contact for Availability)
Bed
1
Bath
1
SQ.FT.
698
Rent
$1,190 -

to

$1,450
Specials
Deposit
Varies

At this time, one or more floor plans at this community are currently unavailable. Please select "Apply for Waitlist" if you would like to apply for the waiting list. Please note, the application and application fee must both be submitted prior to being placed on the waiting list. When availability permits, you will be contacted for actual apartment selection and allotment.

---

❗️Please be advised that rates are subject to change and availability for move-in is not guaranteed.
Displayed pricing is based on 12-month lease terms. Actual rental rates may differ due to desired lease term, specific apartment features, planned move-in date, and availability. Delivery dates and availability are not guaranteed as they are contingent upon the progression of construction and receipt of city and state approvals.

---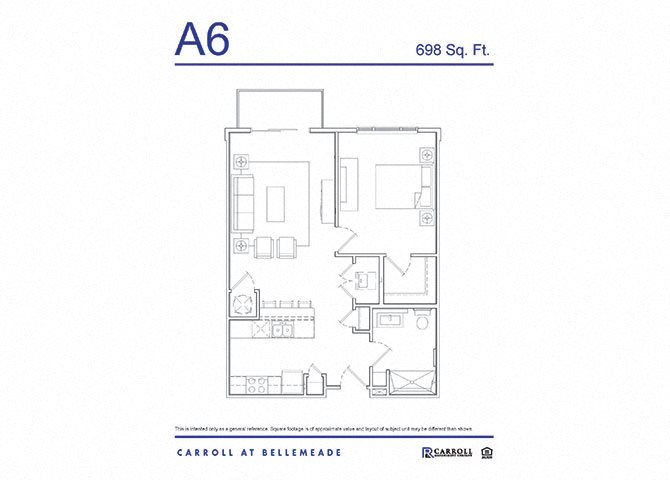 A7
(Available)
Bed
1
Bath
1
SQ.FT.
846
Rent
$1,465 -

to

$1,725
Specials
Deposit
Varies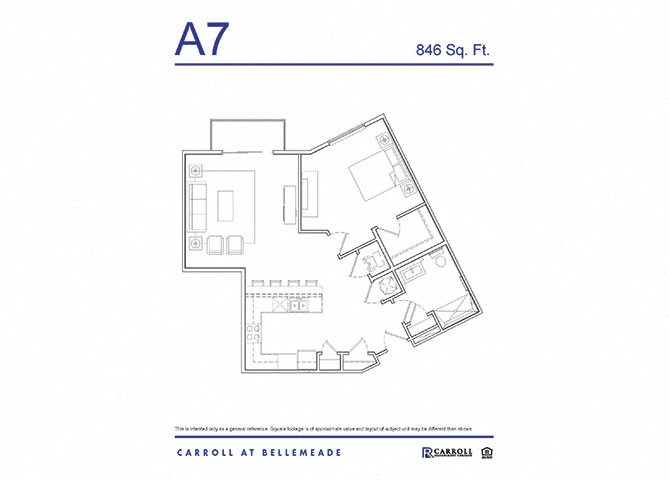 B1
(Available)
Bed
2
Bath
2
SQ.FT.
1,040
Rent
$1,640 -

to

$2,010
Specials
Deposit
Varies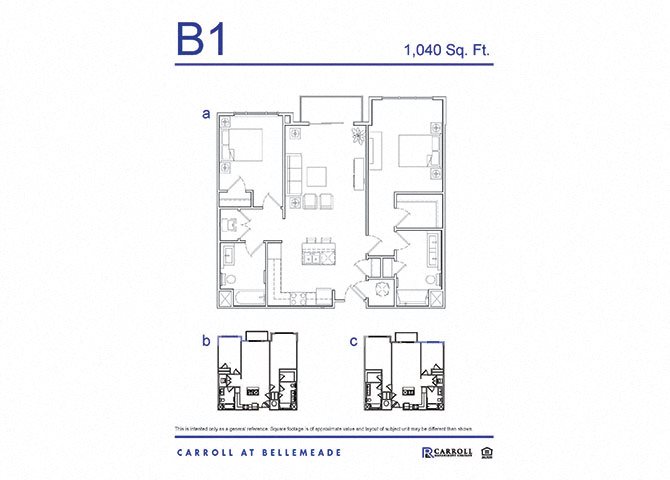 B2
(Available)
Bed
2
Bath
2
SQ.FT.
1,077
Rent
$1,660 -

to

$2,295
Specials
Deposit
Varies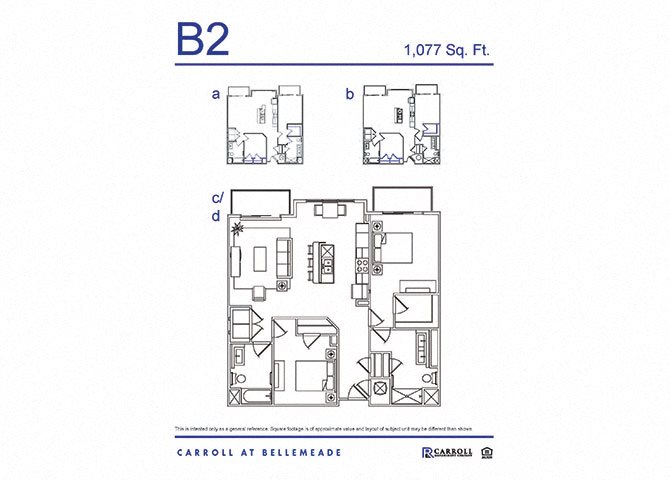 B3-4
(Available)
Bed
2
Bath
2
SQ.FT.
1,379
Rent
$2,010 -

to

$2,655
Specials
Deposit
Varies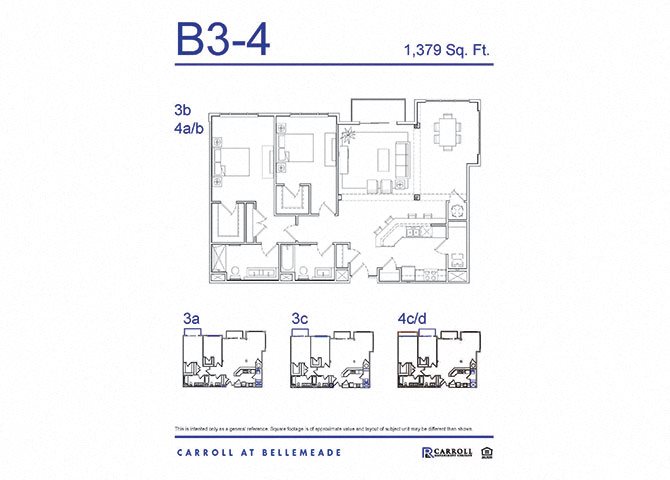 B5
(Available)
Bed
2
Bath
2
SQ.FT.
1,304
Rent
$2,060 -

to

$2,850
Specials
Deposit
Varies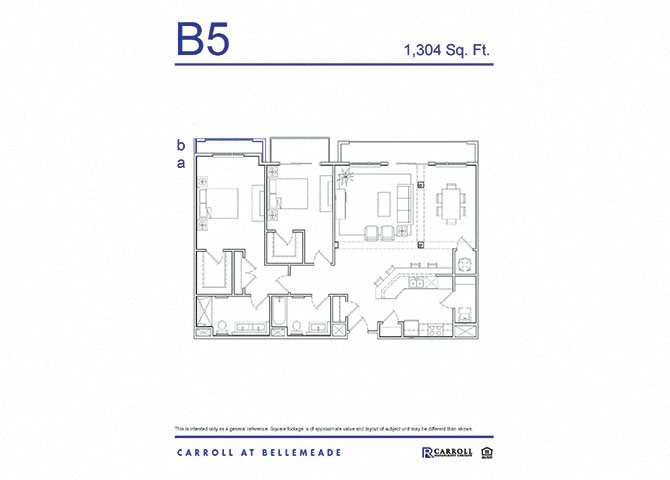 B6
(Available)
Bed
2
Bath
2
SQ.FT.
1,044
Rent
$1,595 -

to

$2,040
Specials
Deposit
Varies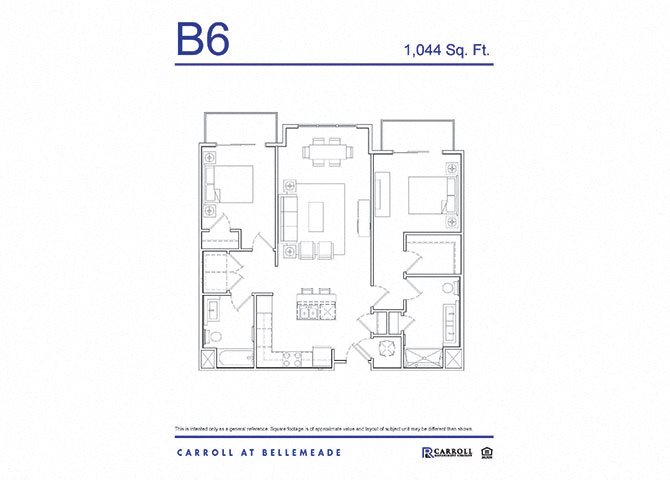 B7
(Available)
Bed
2
Bath
2
SQ.FT.
1,165
Rent
$1,745 -

to

$2,115
Specials
Deposit
Varies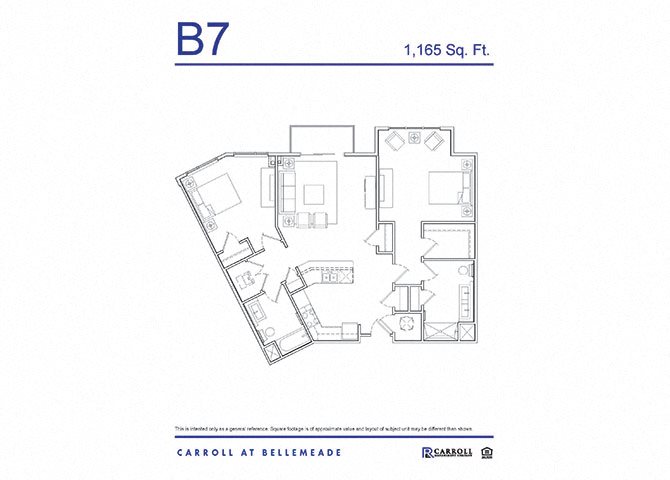 B8
(Available)
Bed
2
Bath
2
SQ.FT.
955
Rent
$1,715 -

to

$2,085
Specials
Deposit
Varies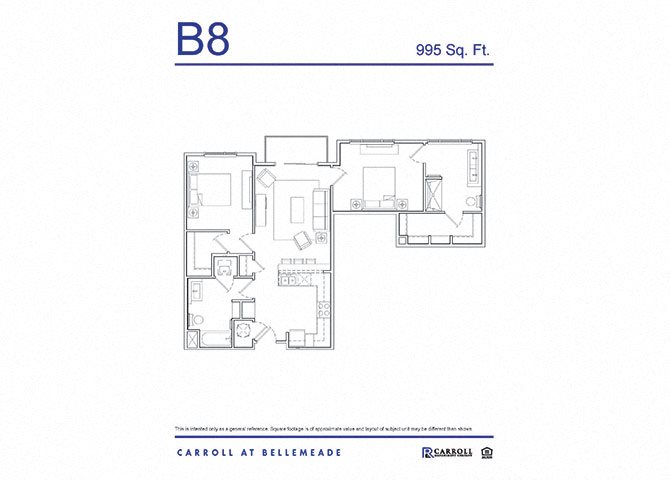 Setting a new benchmark for luxury living, Carroll at Bellemeade is ready to be your perfect urban home: modern, comfortable, amenity-rich, and well-located. Graciously appointed with the latest finishes and features, our one and two-bedroom apartments for rent in Greensboro, NC are ideal for any city dweller.
Available in six layouts ranging from 678 to 846 square feet, our one-bedroom apartments balance space with intimacy. The two-bedroom apartments come in seven layouts that span between 955 and 1,379 square feet and are defined by their well-designed living, sleeping, and entertaining areas. Soaring 9-foot ceilings, patios or balconies, gourmet kitchens, large walk-in closets, and washer and dryer sets are a given on any floor plan. Select apartments also enjoy formal dining areas, as well as floor-to-ceiling windows.
Indulge in high-quality features and gorgeous designed accents. Among them, enjoy stainless steel appliances including built-in microwaves and wall mount range hoods, spa-inspired bathrooms with zero-entry showers and jetted shower panel systems, as well as granite countertops and white beveled tile backsplashes. If the interiors piqued your interest, wait until you see the community spaces. Between the rooftop oasis, elite fitness center, wine tasting lounge, and media room, your hardest task will be choosing how to spend your downtime. You will also be close to the Fisher Park, Greensboro Grasshoppers, Center City Park, and LeBauer Park to name a few of the neighboring attractions.
Visit our apartments for rent in Greensboro and get a preview of all the perks that come with living in the bustling downtown area!

Security deposit amounts range from $150 to the equivalent amount of one month's rent, based on credit.
Displayed rental rates are based on 12-month lease terms and may vary due to desired move-in date, lease term, and specific apartment features. Pricing, availability, and any special offers are subject to change without notice.

Want to see more?